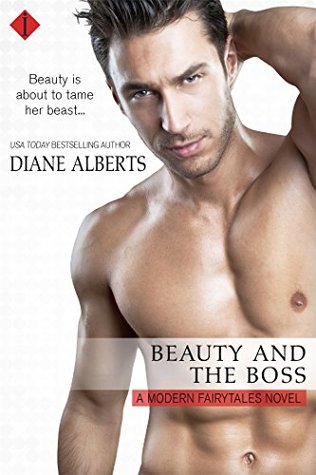 4 STARS!
A sexy, yet sweet read that makes you believe there's someone out there for everyone just waiting to be found!
Maggie Donovan is Head Researcher at Gale Incorporated, and secretly lusts after her boss.
Benjamin Gale III didn't earn the nickname of "The Beast" from his employees for no reason.  He's a cold, hard-nosed workaholic.  That doesn't stop him from noticing Maggie though.
When caught in a compromising position, Maggie defends Benjamin by telling his mother they have been dating since before she came to work there a few months ago, and are now engaged.  Benjamin plays along, and later they come up with an agreement to keep up the charade for awhile.
Will they part ways after they portray the image they wanted to achieve, or will they actually start to have feelings for each other?
**  Received free in exchange for an honest review  **
BOOK INFORMATION:
BEAUTY AND THE BOSS by Diane Alberts
November 16, 2015
Modern Fairytale / Entangled Publishing: Indulgence
Book Summary:
Beauty is about to tame her beast…Researcher Maggie Donovan has no luck with men, and it doesn't help that she can't keep her eyes off of her sexy boss – the one everyone else in the office calls The Beast. Relationships in the office are forbidden. So no one is more surprised than Maggie when she pretends to be his fiancée to save him during a difficult situation. Not only has she put her job on the line, but the future of the company.
Billionaire Benjamin Gale III doesn't believe in love or romance, but the look on his mother's face when Maggie tells her that she's his fiancée is worth millions. Instead of firing her for her insubordination, he goes along with the ruse. In his arms-and in his bed-she'd be everything he could ever want…which is why he can't have her.
But if he doesn't let her go, they'll lose everything…
BUY LINKS:
Amazon:  http://amzn.to/1X0zIbG
B&N: http://bit.ly/1i0Z8Z2
iTunes:  http://apple.co/1JXDSuK
Kobo:  http://bit.ly/1kybE45
AUTHOR INFORMATION:
Author Bio:
Diane Alberts is a multi-published, bestselling contemporary romance author with Entangled Publishing. She also writes New York Times, USA Today, and Wall Street Journal bestselling new adult books under the name Jen McLaughlin. She's hit the Top 100 lists on Amazon and Barnes and Noble numerous times with numerous titles. She was mentioned in Forbes alongside E. L. James as one of the breakout independent authors to dominate the bestselling lists. Diane is represented by Louise Fury at The Bent Agency.
Diane has always been a dreamer with a vivid imagination, but it wasn't until 2011 that she put her pen where her brain was, and became a published author.  Since receiving her first contract offer, she has yet to stop writing. Though she lives in the mountains, she really wishes she was surrounded by a hot, sunny beach with crystal clear water. She lives in Northeast Pennsylvania with her four kids, a husband, a schnauzer mutt, and a cat. Her goal is to write so many fantastic stories that even a non-romance reader will know her name.
Author Links:
Website: http://dianealberts.com/
Facebook Fan Page: https://www.facebook.com/DianeAlberts6
Twitter: https://twitter.com/DianeAlberts
Goodreads: https://www.goodreads.com/author/show/5081315.Diane_Alberts
BLOG TOUR GIVEAWAY: